Stained Glass Creations by Wanda
STAINED GLASS
Dockside Studio
Navarre, Florida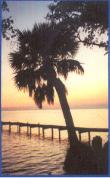 Welcome to DocksideGlass.com
Home of Navarre Florida's stained glass artist Wanda Veal.
Some ready made items may are now available without delay directly from Dockside Glass Studio.
Larger items take a longer amount of time to be produced. Since all pieces are custom made, it often requires one on one consultation with the artist. Speaking directly with the artist will ensure you receive the stained glass work of art you desire.
Many of Dockside Glass creations can be found in local art galleries and shops in the Panhandle area of Northwest Florida. To find out who is currently selling Dockside Glass creations visit our links page.
If you have questions call or Email to find out about having a special piece of artwork commissioned.
For all other inquiries please use our contact page.